Angel Baby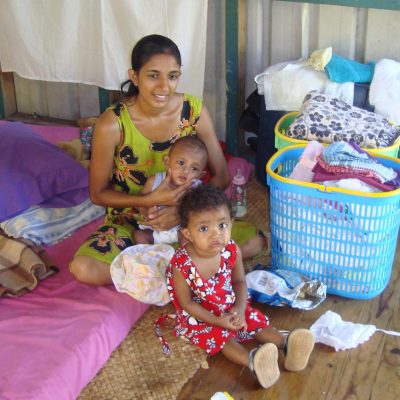 Sharmila lives at Koroipita in a comfortable home with her two children but it hasn't always been like that…
She had been in a de-facto relationship and things started to changed after she had her first child. Her de-facto abandoned her and their child when the child was one year old, leaving one day never to return… she was by now 20 years old and already expecting their second child…
She was on her way to Lautoka hospital to get help for her sick 2 year old, when a relative saw her walking in the hot sun and offered her a lift to the hospital and then went to Bayly Welfare Lautoka and asked for their assistance.
The Lautoka Almoner – Mrs Sarojni Michael – listened to her story and assisted as best as she could. Sharmila was advised on certain matters concerning her pregnancy and general well-being and that of her child.  Mrs Michael told Sharmila that she would do whatever possible and that she was welcome to visit the JP Bayly Welfare whenever the need arose.
A couple of months later, Sharmila found her way back to us and this time she'd come bearing a gift…a gorgeous little angel, a beautiful baby boy, and some good news. The relative who had helped her to hospital had offered her a place to stay. In the meantime she had heeded our advice and spoken to Mr. Inoke of "Hart Home" as well as Mr. Peter Drysdale of "Rota Home", and hopes for a house were soon to be a reality.
I remember there was a lot of cooing and baby-talk going on that day as the volunteers fussed around the baby. After speaking with her that day, I remember thinking… "This child; this angel has brought luck with him for his mum and elder sister" because everything was falling into place concerning their housing- Mr. Drysdale had gotten back with news about the Rota Home in Naikabula, Lautoka and things were beginning to look up.
The house is slowly becoming the home that Sharmila thought she would never have and the JP Bayly Lautoka staff and volunteers are working together to ensure that this young family has a good start.
Each new week, brings with it, a few more pieces of linen and clothing, some crockery and knick-knacks that we are slowly gathering for Sharmila and her.
We are enjoying our time with this family and we await eagerly the day when the children have their first day at kindy and all the adventures that come with it.