Free ears, eyes check excite children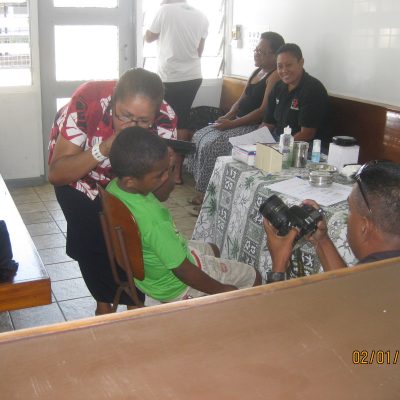 Children were excited to have their eyes and ears examined for free yesterday.
The Project Heaven Trust, in conjunction with the JP  Bayly Trust Suva Welfare Centre, did a free eyes and ears screening at the Bayly Trust building in Suva on 1st February 2014.
Miriama Tivakacia, 12, said it was good to have her eyes checked by doctors without being charged any fees.
"I came here for eye checkup with the doctors here and I feel so excited because I don't have to pay anything, since it's free."
Mosese Vueticake, 9, who was at the clinic for an ear screening thanked Bayly Welfare Suva & Project Heaven for holding such clinics.
"I cannot hear properly at times and that's why I'm here for checkup because it is free."
Meanwhile, Project Heaven's executive director, Dr Kitione Raiwalai, said they were holding the clinic to coincide with the request from the Bayly Trust Accountant/Manager Ms. Sitla Sharma.
"We usually go into schools and communities to hold checkups and screenings on eye and ear impairments.
"So we came to hold a clinic here because we had a request from the Bayly Trust to do eye and ear screening for their Suva Children before they are referred to doctors."
Dr Raiwalai said the screenings were done before referring the patients to hospitals but if it did not work then patients were later referred to civil society organisatons.
Bayly Welfare Almoner Ms. Manorma Chandra kindly hosted this clinic and arranged for 40 Bayly children to be present to take advantage for this free check up. Another 90 children will have their checkup done in their own locality in the next couple of weeks.