HAPPINESS FOR YOU AND ME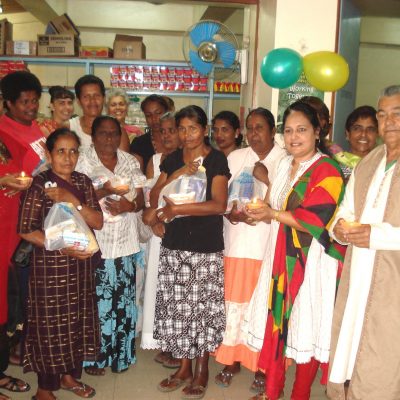 IT'S THE FESTIVAL OF LIGHTS AND EVERYTHING IS
SO NICE AND BRIGHT….
WALLS HAVE BEEN WIPED TO MRS MICHAEL'S
DELIGHT, BALLOONS HAVE BEEN HUNG AND
PAPER CHAINS STRUNG….
THE COLORS OF DIWALI BRIGHTER THAN
THE SUN….
WE CAN'T HIDE OUR EXCITEMENT…
WE KNOW THERE'LL BE FUN, WE ARE
DRESSED TO THE NINES AND FEELING DIVINE- THIS IS
A SPECIAL TIME TO SHINE.
WE WAITED IMPATIENTLY AS OUR
GUESTS ARRIVED MAKING SPACES IN THEIR BAGS
FOR AN AWSOME SURPRISE….
THEY FEEL SO HAPPY, DELIGHTED TO SEE….
SUJI, SULTANAS, CONDENSED MILK- MITAIS AND GHEE!
THIS COMES TO THEM WITH COMPLIMENTS OF
THE JP BAYLY TRUST….
EVERYONE IS HAPPY AND FILLED WITH GLEE AND
THE LOVE IS CLEAR FOR ALL TO SEE….
AT THE BAYLY WELFARE IN THE
HEART OF LAUTOKA TOWN….
OUR VOUNTEER BAINIS ARE BUSY BUSTLING AROUND….
MAKING SURE THAT WE ALL ENJOY AND SHARE IN THIS TIME OF FUN AS ONE!!!
…SO IF LIFE JUST SEEMS
TO GET YOU DOWN………..REMEMBER
IT'S THE FESTIVAL OF LIGHTS AND
EVERYTHING          IS      FANTASTICALLY
*BRIGHT*
By: Tracey Beddoes
Bayly Welfare, Lautoka