Icing on the Cake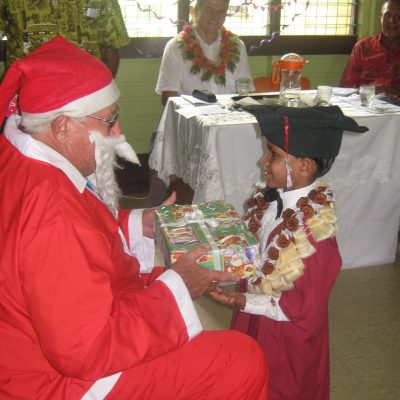 It was a beautiful sunny morning on Saturday 11th December 2010.  I could see the children in their best outfits with their parents, guardians and friends coming towards the hall.  They did not care about the sweat running down from their foreheads nor their aching feet, because they knew what lay ahead of them for the day.
The function started at 10am with the arrival of the chief guest, Mr. Steve Knynenburg, Director of APTC.  This was followed by the singing of the National Anthem by everybody and items were presented by our Bayly children. The program was very exciting especially when we all got to hear the children expressing their own feelings of appreciation for where they are today through the financial support of JP Bayly Education.
28 students were awarded prizes in different categories at each level. We also awarded Farah Farzana Bi with a special 'Bayly Prize' to recognise the best Form Six student. She received a gift of her choice; an MP4 player. Other outstanding awards were presented to Filomena Waqaicece of MGM High School for Outstanding cross-cultural leadership, Kitione Ravutu for passing with flying colours from Nabua Vocational School and Shivam Shanil Singh for scoring the highest mark in Fiji Eighth Year Examination.
The arrival of Santa Clause was 'the icing on the cake'. Santa Clause danced around the hall singingHo! Ho! Ho! distributed snacks and presents whilst the children were filled with joy and they then all started to groove!  Later, everyone was treated to lunch and ice-cream for dessert.  Every child went home with a Christmas present.
The whole event is something everyone should witness to experience the satisfaction, inner joy and peace to all those that are directly involved. This is the grand finale to yet another successful year.