Joti Prakashni Sharma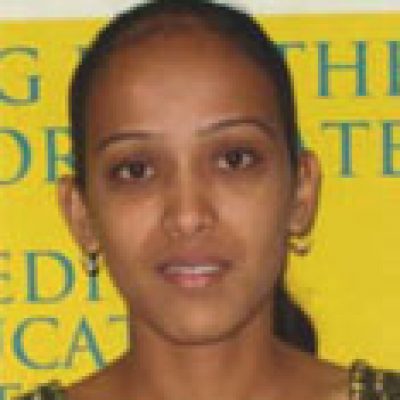 The Bayly Education Fund, Lautoka has assisted me in my education up to the completion of Form 7 in 2008. They provided me with everything I needed to complete my schooling at Lautoka Muslim College for 6 years from Form 2 to Form 7 with my strongest subjects being Economics, Accounting & Geography. I am so grateful, that I was given this opportunity by the Bayly Education Lautoka, to be able to complete my education as this would not havebeen possible without their generosity and assistance. I have always found it quite upsetting to see financially secure children not completing their education and this made me more determined to make sure that I did finish Form 7. I give thanks to people like Mrs Michael (Almoner – Lautoka) and Radhika (Education Officer – Lautoka) who were with me through 'thick and thin'. I am quite sure, that I would not have been able to complete my education up to Form 7, without the generous assistance of the Bayly Education Fund.
During my school breaks, I enrolled in computer courses, and obtained a Certificate in Computer Studies in January 2007 and an Advanced Certificate in Computer Studies in January 2008. To earn extra money for myself and the family, I also took on holiday jobs with Peekays, Lautoka (2005) and with Sannus Entertainment, Lautoka in 2006. Coming from a poor family background with a father who was very sickly and unable to work and a mother selling Fiji Times and receiving Social Welfare assistance, this was not enough to make ends meet – especially as there were three children to educate. Through the kind assistance of the Bayly Welfare & Bayly Education Fund in terms of food rations, clothing, linen & beddings, free medication and most importantly the education for my two sisters and I, we have been able to benefit from this.
My eldest sister was assisted till Form 6 and is now married. My younger sister continues to be assisted through the Bayly Education Fund whilst my family also continues to be assisted through the Bayly Welfare, Lautoka. I thank the Bayly Trust for their support and the counseling sessions that we received together with our parents which I believe has made me a stronger and better person today.
I have been working as a Promotional Girl & Casual Merchandiser for MakansDrugs & Pharmaceutical Supplies, Lautoka for the past ten months, having commenced work in September 2008. I am very happy and glad to have a job with which I can now support my family even if the job is only on a casual basis. Being in employment with a renowned company such as Makans Drugs is a privilege.
I do not feel I could have achieved what I have in terms of my education and the job that I have without the kind assistance of the Bayly Trust and I take this opportunity to thank the JP Bayly Trust, Bayly Welfare/Education Lautoka, Mrs Michael (Almoner – Lautoka) and Radhika (Education Officer- Lautoka) and the rest of the staff and volunteers for being there and providing their assistance and time for my family.