Labasa Volunteers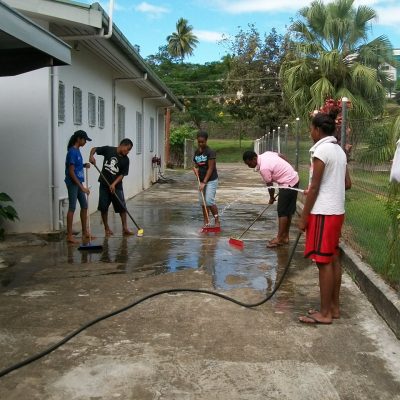 It was a special moment for the students of Blue Light Programme since they took out their valuable time to clean Bayly Welfare Labasa premises as part of their 1st volunteer programme in Northern division on Saturday 26th May.
These students come from a poor family background and are assisted by Fiji Police Force since last year. Their Blue Light project is funded by the Fiji Police Force and UNICEF. Police Officer Mere was present at Bayly Welfare Labasa Annual General Meeting which motivated her to come forward and help us in any way she could.
These students were from different schools and were friend of our sponsored ones so this encouraged them to take up the cleaning exercise.
Theses students had positively indicated that they will continue assistance whenever need arises. Refreshments were provided and with plenty of students it just took few hours for this tough work to be done though most of them were girls.
The students also enjoyed and came to know and understand the important role of our Centre towards the community. Bayly Welfare is thankful for the wonderful work done by the group and pray the almighty will bless his showers to the families of these needy children. Once again Vinaka Vakalevu.