No Different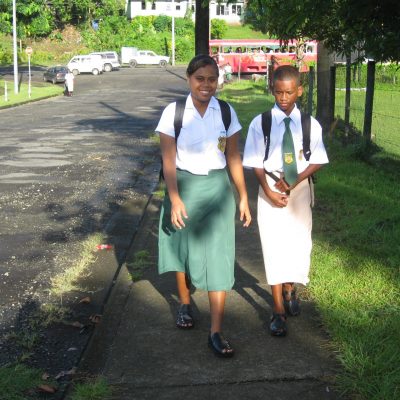 All students desire to be educated and have a brighter future, but for some it is just a dream due to the unfortunate circumstances that they live in which is largely driven by poverty. The Bayly Education programme assists these children by providing tuition fees and educational supplies thus allowing their dreams to come true.
Maria Naisoro, a Form 6 student of Ratu Sir Lala Sukuna Memorial School in Nabua is being assisted by the Bayly Education Suva this year. Her family have been on the Bayly Welfare Suva register since 2010.
The look on her face when she received her new uniform, books, stationery, bag and shoes made us proud.  She now is just one of the many children in school. Maria hopes to successfully complete her Form 6 this year, and do the JP Bayly Trust proud. "All I needed was a chance and now I have been given that chance to make something of myself."
Picture caption: Maria Naisoro (left) very proudly walking towards Ratu Sir Lala Sukuna Memorial School in Nabua.