Shoes from Deluxe Footwear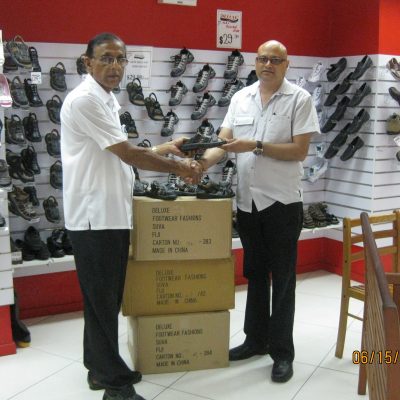 "Let us share and care" is the moto of Deluxe Footwear Managing Director, Mr. Dharmendra Parmal of who has sighted his father's success from a small shoe shop to an empire of shoe shops in Suva.
Deluxe Footwear has recently donated 400 pairs of brand new children's school sandals (worth of $8,000) to Bayly Education Suva. Bayly Welfare & Education Suva has been long associated to Deluxe Footwear and some of these sandals will also be shared with Bayly Education Centers in Lautoka and Labasa.
We are delighted with these donations because it has saved $8,000 which can now be utilized in other education assistance to the less fortunate children registered in our register.
During the handover, Dharmendra said that "I won't take any wealth with me when I die, so I must share whatever we can afford. I will only leave my name behind like my father did."