Wheels for Life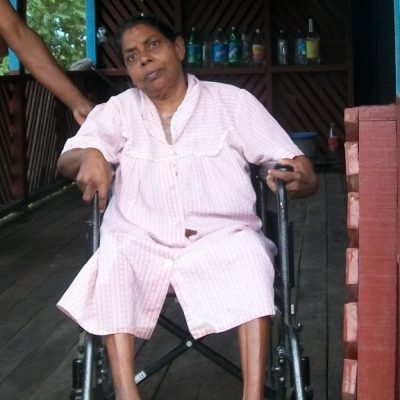 By: Mr. Satishwar Chand
It was one of the happiest days for Jay Wati of Labasa, when a timely gift was presented to her by the Labasa Almoner Satishwar Chand.  Recently Wati had suffered from a major stroke and was completely bedridden and her only daughter who is mentally unwell was helpless. Their neighbour has voluntarily been caring for Wati and she said that it was dreadful to see the daughter using a sack as method of moving Wati.
Wati was even more delighted when the Labasa Almoner delivered a wheelchair for he to use and thus become more mobile. The Labasa Almoner's application for the donation of wheelchairs from Spinal Injuries Association was favourably considered and in July this year 6 wheelchairs were kindly donated.
Wati now is now able to sit on her terrace and meet and communicate with her visitors. She added that she had become very depressed after the passing away of her mentally disturbed son a year ago which eventually resulted in her stroke. The only income she has is $70.00 from Social Welfare Family Allowance and the monthly food assistance from Bayly Welfare.
She feels that she forms part of the Bayly Welfare family having been one of the families being assisted since 1997 and they have always been there in her times of need. "Without this help my life would have been in dark. I pray to the almighty God for a long life to all the people who are associated with this organization. Once again I thank all from the bottom of my heart" Wati concluded.